Project coordinator
TU/e Technische Universiteit Eindhoven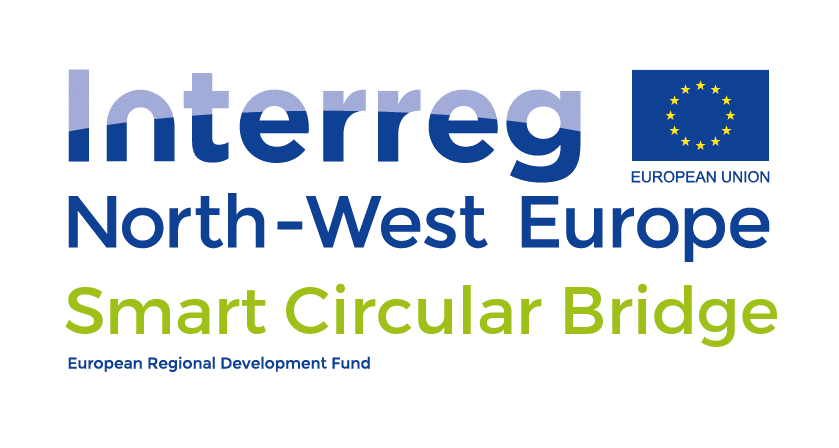 Start: 01/01/2019
End: 31/12/2023
Duration: 5 years
Partners: 
KU Leuven
FiberCore Europe BV
24SEA BVBA
Com&Sens
VolkerInfra BV
Lineo – groupe NatUp fibres (Before Ecotechnilin)
Universität Stuttgart
Centre of Expertise Biobased Economy (Stichting Avans)
Vrije Universiteit Brussel
Gemeente Bergen Op Zoom
Gemeente Almere
Gemeinde Ulm
Budget:
EU funding: € 3.93 M
Total budget: € 6.86 M
Type of funding: Interreg Northwest Europe
Financing Body: Interreg Northwest Europe – https://www.nweurope.eu/
SCB – SMART CIRCULAR BRIDGE FOR PEDESTRIANS AND CYCLISTS IN A CIRCULAR BUILT ENVIRONMENT NWE993
Project description
Smart Circular Bridge aims at using renewable bio-composite materials in building infra-structure. Bio-composites are materials that combine natural fibers (for strength) such as flax, with as much as possible, natural resins ("the glue holding the fibers together"). To achieve this, the project will build a total of 3 so-called "self-sensing", smart bridges. The bridges are equipped with state of the art sensors that will continuously monitor the material behaviour in real time. If certain safety levels should be (almost) compromised, the bridge will send out early warnings through its bridge management system.
Apart from the materials, the Structural Health Monitoring system, the project will also research the material impact. New solutions for the end of life, the circularity will be part of the project, and possible results will be disseminated as widely as possible.